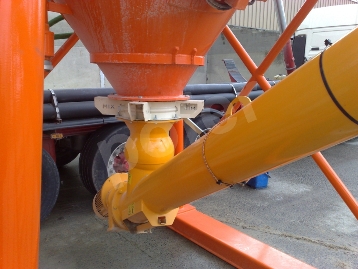 POFER tubular screw conveyors suitable for extracting, batching and conveying concrete, sludge and inert matters of any kind. These screw conveyors can be used in horizontal, inclined and vertical position.
The modular extensions can be easily assembled with strong flanges as well as strong hanger-bearings with bushing and greasers properly protected from wear and designed to suit conveyed material. On request it is possible to supply a remote controlled greasing cartridge system .
The splined shaft (according to UNI standards) enables a quick coupling with the broached bushing welded at the end of the spiral shaft, and allows the screw to endure high and fluent rotation. The extraction spiral has a reduced pitch at the inlet end to avoid clogging of the conveyor near the hanger bearings and to ensure the perfect working of the machine. Inspection hatches are placed under inlet and under each hanger bearing.
The screw conveyor is supplied with a direct motor gear with splined shaft and special POFER flange to be mounted both at inlet (standard) or outlet side. The motors have a power between 1,1 and 15 kW, with the possibility of adopting many reduction ratios (1:5, 1:7. 1:10, 1:15, 1:20) according to customer's productivity requirements . On request screw conveyors can be supplied with special motor and special gearbox.
The CEMENT standard supply includes:
Standard inlet and outlet with rim (prearranged for the fixing of sleeve extensions)
Inspection hatches under inlet and under each hanger bearing.
Intermediate flanges
Hanger bearings
Greasing nipples with protection
Direct standard POFER motor gearbox at the inlet side.
Lifting hooks.
Cable-pass pipe.
Primer and Painting with "chrome-yellow" RAL 1007 finish.
(available on request AISI304, AISI316 and hot-dip galvanized)
For a quotation, always check with our Technical Department, providing all the details and information accordingly. CONTACT info@pofer.it +39 0425 89000.